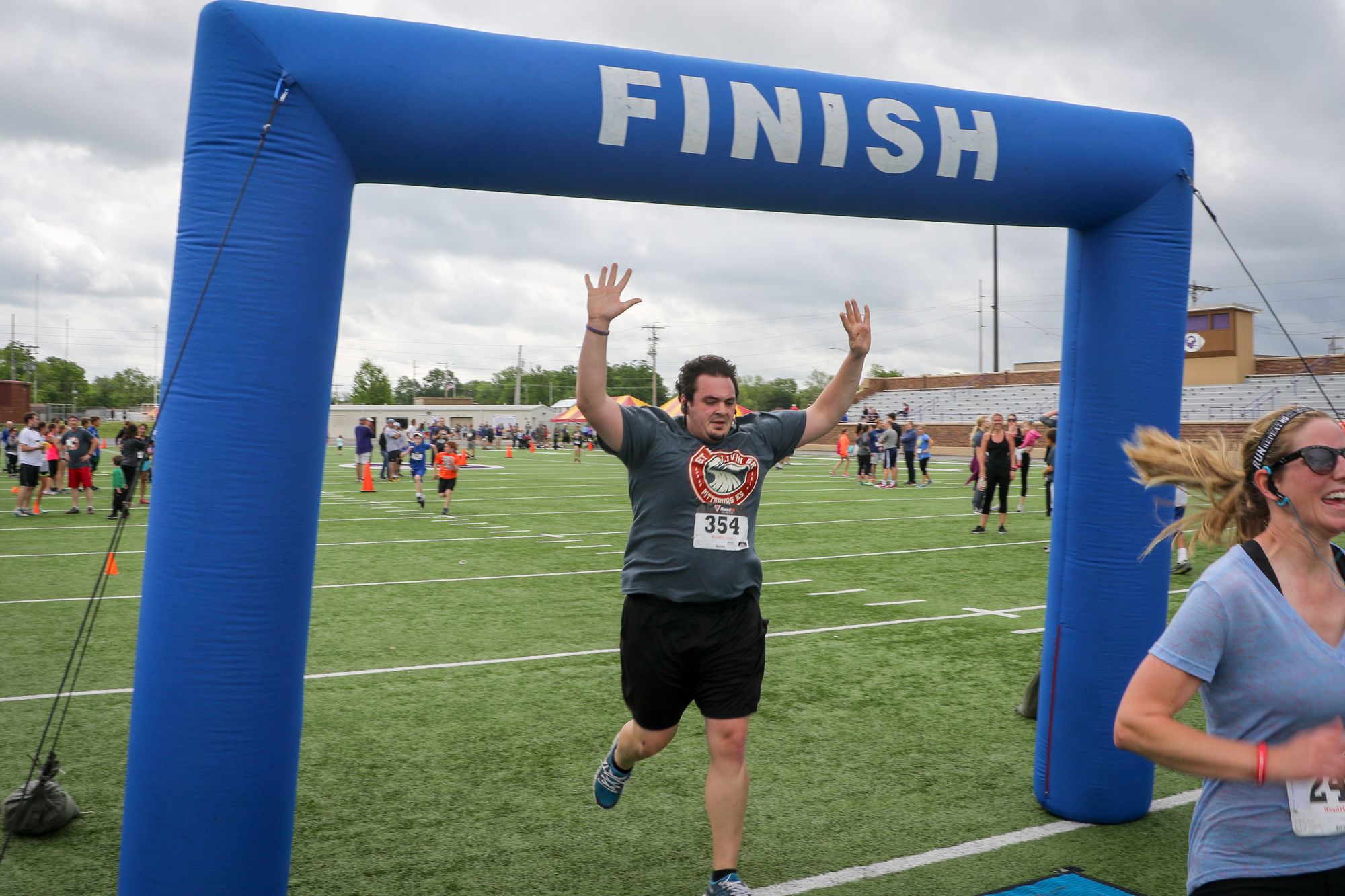 RACE DETAILS
It's hard to believe it's the sixth annual Get Busy Livin' Foundation 5K, but this is the year we go all out. This event honors the life and spirit of Dylan Meier, who still reminds us to live each day to the fullest. We are so excited to keep spreadin' the message, and are expecting this to be our biggest year yet. Participants will start and finish at Hutchinson Football Field located next to Pittsburg Middle School. This year we will feature a brand new course design. Whether you are trying out this 5K thing for the first time or you're a seasoned vet, this will be a grateful day for all. Let's all get together and get our Saturday started off right, with friends, family, fitness and inspiration. GET BUSY LIVIN'!!
REGISTRATION FEES
This event is open to the public and the "entry fee" is determined by you, the participant! How does it work? You can contribute to the event by entering the donation amount of your choice during online registration. Not sure what to contribute? Suggested donations for each sub-event are as follows:
5K Walk – $25 (per participant)
1 Mile Friendship Walk – $25 (per participant)
Kids Fun Run – Donate as you see fit
*Online Registration closes Tuesday, April 26th at 10:00 p.m. *We will be accepting walk-up registrations on race day. However, early online registration is encouraged. *Race day registrants are not guaranteed a t-shirt.
RACE DAY INFO
Date Saturday | April 30, 2016
Location 1310 N. Broadway | Pittsburg, KS (Hutchinson Football Field)
7:15 Gates Open
7:30 to 9:00 Packet Pickup & Late Registration
9:15 Opening Announcements
9:30 5K Run / 1 Mile Walk* Begin
Approx 10:30 Kids Fun Run**
Approx 11:00 Awards Presentation
*The 1 Mile Walk will also take place within Hutch Field.
**The Kids Fun Run will be held on Hutchinson Football Field directly after the completion of the 5K run and 1 Mile Walk. Distance varies depending on age group.
Participants will enjoy:
A 2016 Get Busy Livin' t-shirt and wristband
Fruit and refreshments at the finish line
Prizes for the top three male and female finishers
PACKET PICKUP & LATE REGISTRATION
In addition to Saturday morning, we will also have Packet Pickup & Late Registration sessions on Friday, April 29th. To avoid long lines, we encourage individuals to pick up their packets either on Friday or as early as possible on Saturday morning.
Friday Packet Pickup & Late Registration
Location: Jocks Nitch 11 a.m. to 6 p.m.
Saturday Packet Pickup & Late Registration
Hutchinson Football Field 7:30 a.m. to 8:50 a.m.
Annual Shoe and Youth Clothing Drive
Once again this year… we will be conducting our Annual Shoe and Youth Clothing Drive. The world is awash with refugees fleeing country conflicts and the demand has never been greater. We will again partner with the regional Southeast Kansas Recycling Inc. group. SEKR is a non-profit recycling organization that has provided comprehensive services for over 14 years to southeast Kansas. At their Pittsburg facility they accept virtually anything that can be recycled or reused including; paper, metals, plastics, clothes, e-waste, large bulky items and household hazardous waste. The SEKR first circulates the collected items within the community thru their "Locals Helping Locals" program. The unsold/used items are then shipped to their vendor where the items are reprocessed for distribution to needy communities throughout the world.
SPONSORS